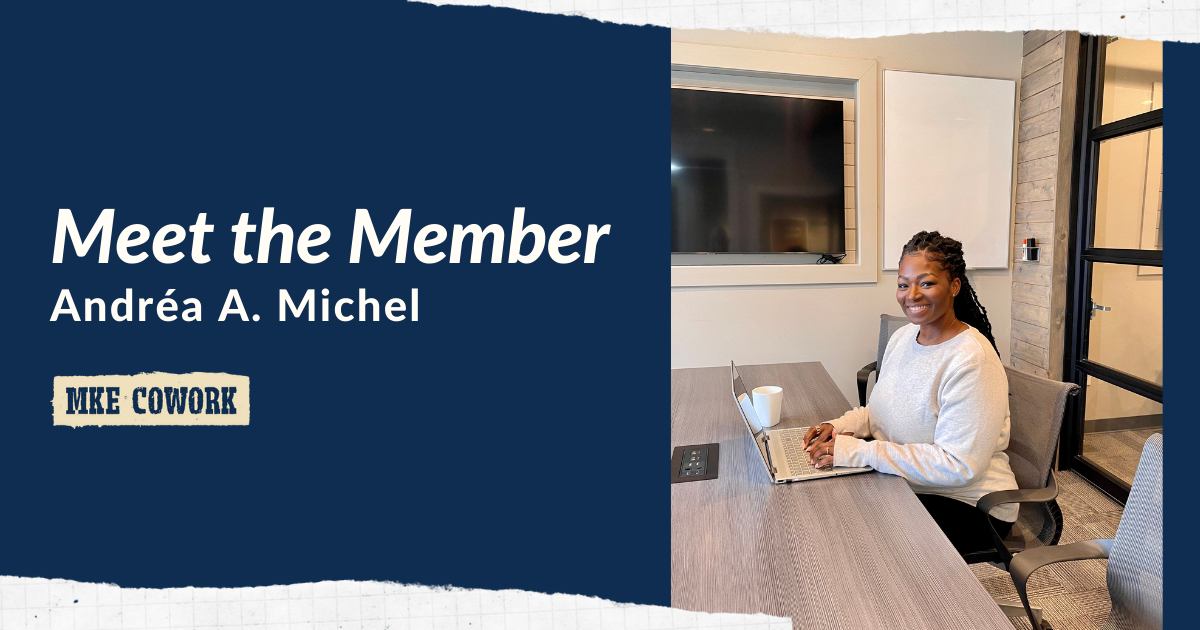 27 Jan

Meet the Member: Andréa A. Michel

Our next member of the month is Andréa A. Michel. She recently hosted a Mindfulness Meditation program at MKE CoWork! We could all use a little more mindfulness in our lives. Get to know Andréa below:

I am a certified trauma-sensitive and stress coach for high-achieving executives and entrepreneurs. I provide a safe space for them to show up as themselves without the fear of judgment, criticism, or being misunderstood so that they can heal from the things that may have hurt them in the past. 

Using my 5-step framework inside of my Synergy Healing Accelerator™, I help high-achievers discover the root cause of what's "bothering" them. During our time together, I partner with them so that they can heal gently while still being relentless in the pursuit of their goals. 

In addition to multiple certifications, I have my M.B.A. and currently pursuing my Ph.D. in developmental psychology with an emphasis on childhood and adolescence. Before becoming the CEO of my business, I spent 15 years successfully climbing the corporate ladder in accounting and finance. And while I was great with numbers, data, developing and managing internal controls, and financial analyses, I'm even better with people!

To get on the waitlist for my powerful Synergy Healing Accelerator for high-achieving executives and entrepreneurs, click on the following link: https://www.andreamichel.com/accelerator-waitlist  

To learn more about me, go to: https://www.andreamichel.com/
What made you join MKE CoWork?
Since my children were back to attending school in-person, I needed a space to go after I dropped them off at school instead of driving back home in Mt. Pleasant.
What's your favorite thing about coworking?
The people are great! Everyone is so pleasant, and Ed is such a great guy. It also helps that the space is gorgeous, and I'm a sucker for beautiful things and people.  
What's your favorite part about your job?
My favorite part is the people I get to meet and work with on their healing and self-discovery journey.
What's your favorite book or podcast? Or both?
Ooooh, this is tough. Top three favorite books are The Seat of the Soul by Gary Zukav, What I Know for Sure by Oprah Winfrey, and Spiritual Liberation by Micheal Bernard Beckwith.
My favorite podcast is my own podcast called Healing While Discovering Yourself.
If you could choose one song to play every time you walked into a room for the rest of your life, what song would you pick?
Hands down, it would be Eye of the Tiger by Survivor because I've experienced so much trauma, pain, suffering, and loss, and I'm still here to survive and thrive!
What was the last show you binge-watched?
Dateline on Peacock. Thank God for streaming services. Otherwise, I wouldn't watch anything on TV.
If you were independently wealthy and did not have to work, what would you do with your time?
This might sound like a cliche but I'd be doing exactly what I'm doing right now. I LOVE the work that I'm doing. I love making a difference in people's lives. It was a huge gamble for me to bet on myself and leave a great career making good money but it was so worth it. I started from the bottom and I've climbed my way up. That feels good to me.