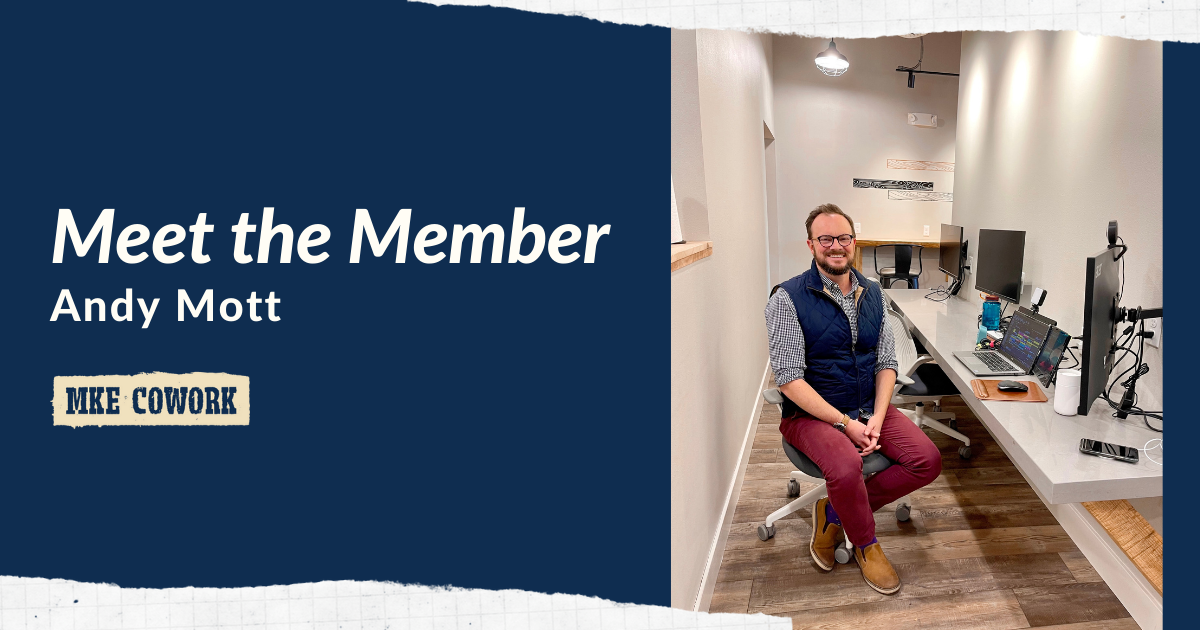 06 Dec

Meet the Member: Andy Mott

Our next member of the month is Andy Mott. He's usually one of the first members to arrive in the morning and we love having him around! Get to know Andy here:

I'm a Data Architect for Thomson Reuters. Reuters is usually the recognizable bit and I find it inspiring that I can count these amazing journalists as coworkers. You'll find that lawyers and accountants are often familiar with the software we develop.
What made you join MKE CoWork?
I like to say that I've been working remotely before working remote was cool. I find that the proper environment is key to being productive. With a four-year-old son, a home office in our current space is not an option. MKE CoWork is the perfect environment to get stuff done.
What's your favorite thing about coworking?
Great people for sure. Everyone is very friendly and respectful of the working environment. Free coffee and the variety of working spaces are both a huge plus.
What's your favorite part about your job?
So happens that I love data. I'm a heads-down kind of nerd most of the time and I like puzzles. There's a lot of both in this line of work. I also have to interact with a lot of different people from all over the world which keeps me plugged into a bigger picture.
What's your favorite book or podcast? Or both?
Book: Essentialism by Greg McKeown. It's easily my most recommended read.
Podcast: Deep Work by Cal Newport.
If you could choose one song to play every time you walked into a room for the rest of your life, what song would you pick?
Great question! U2 – Beautiful Day perhaps.
What's your favorite lunch or happy hour spot in West Allis?
Gotta give a shout-out to Su + 2. Great salads. Great sandwiches. Can't go wrong on that menu.
What was the last show you binge-watched?
Let's see – four years ago before my son was born… it would have been House of Cards!
If you were independently wealthy and did not have to work, what would you do with your time? 
I've got a book to write! I'd do that and take on more of the housework… oh wait, I'm independently wealthy so I guess I'd hire someone for that?