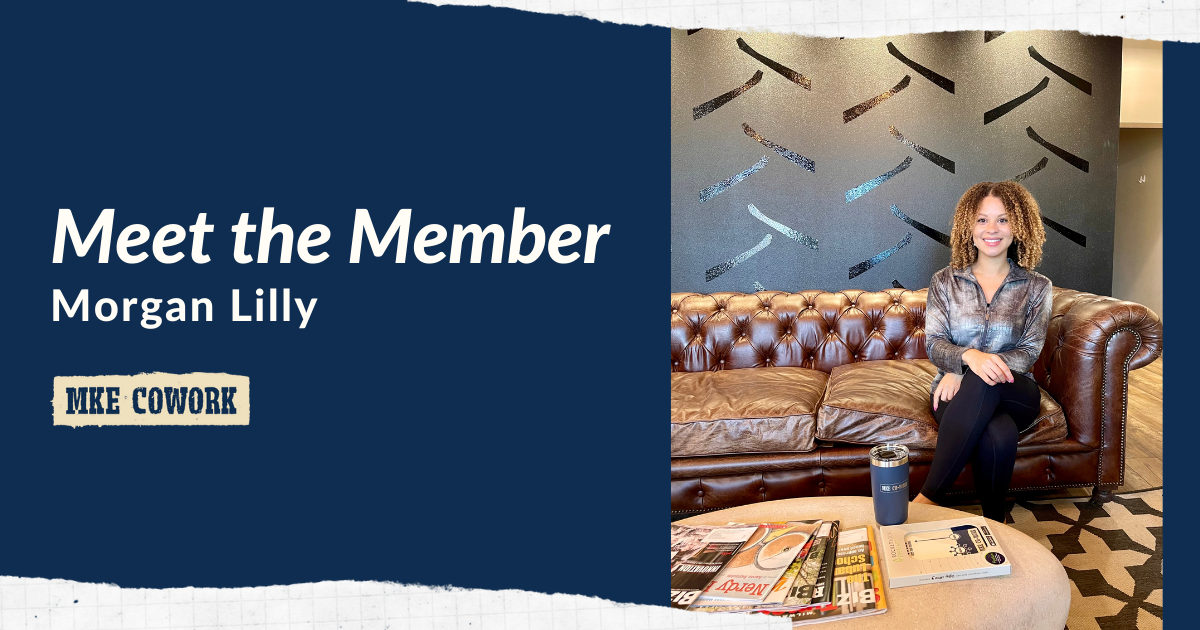 15 Aug

Meet the Member: Morgan Lilly

Our next member of the month is Morgan Lilly! Morgan is one of our newer coworking members. She's an entrepreneur, founder of an awesome company, and loves to travel. Also, if you see her this month, be sure to wish her a happy birthday! 

I'm the founder and owner of the e-commerce brand Dormi Headphones! We sell unique headband headphones for sleep, relaxation, working out, and more. We're a proudly black-owned, female-owned and Milwaukee-based business and we sell our products worldwide.
What made you join MKE CoWork?
I actually first discovered coworking when I was living in Bali in 2019. I worked at a place called Dojo Bali and fell in love with the flexibility and creativity of coworking. From that moment on I always sought out coworking spaces in whatever city I found myself in. I joined MKE cowork because I was working long, boring hours by myself (as most solo founders and entrepreneurs do) and was missing the energy of coworking spaces. I'm so glad I found MKE CoWork.
What's your favorite thing about coworking?
There are so many great things about coworking. Being surrounded by unique and self-starting individuals. The events (networking events, happy hours, book clubs, masterminds, you name it). The constant flow of energy, inspiration and ideas. The gorgeous workspace – MKE CoWork has this industrial, modern, yet warm and inviting vibe, plus they let the members choose the music and everyone seems to have great taste. I always get amazing work done here.
What's your favorite part about your job?
Hands down the best part of my job is being able to do it from wherever. I've lived in Bali, Vietnam, Panama, Chiang Mai, San Francisco and Barbados. As long as I have an internet connection I can work. I'm extremely blessed. Another equally amazing part about being an entrepreneur is the character building that comes along with it. After everything I've endured, learned, (and unlearned!) to get here I have this sense of confidence now that's pretty unshakeable. We do hard things not just for the sake of doing hard things but for the person we get to become. Seven year old and seventy year me would both be proud.
What's your favorite book or podcast? Or both?
My favorite book right now is Untamed by Glennon Doyle (if it's good enough for Reese Witherspoon, it's good enough for me). And my favorite podcast right now is Getting Curious with Jonathan Van Ness.
If you could choose one song to play every time you walked into a room for the rest of your life, what song would you pick?
I've been waiting for someone to ask me this question. Right Place, Wrong Time by Dr. John.
What was the last show you binge-watched?
If you were independently wealthy and did not have to work, what would you do with your time?
I'd master the art of filmmaking and start a YouTube channel. I'd visit unique or remote populations around the world, spend a month or two with them and document how they live. I'd shed light on how they eat, how they work, how they organize their societies and their families… I especially want to spend a month with Siberian Reindeer herders. They continue to live today the way humans lived for tens of thousands of years. Absolutely fascinating. I'd do all this with the goal of promoting understanding and appreciation of others' ways of life. ✸