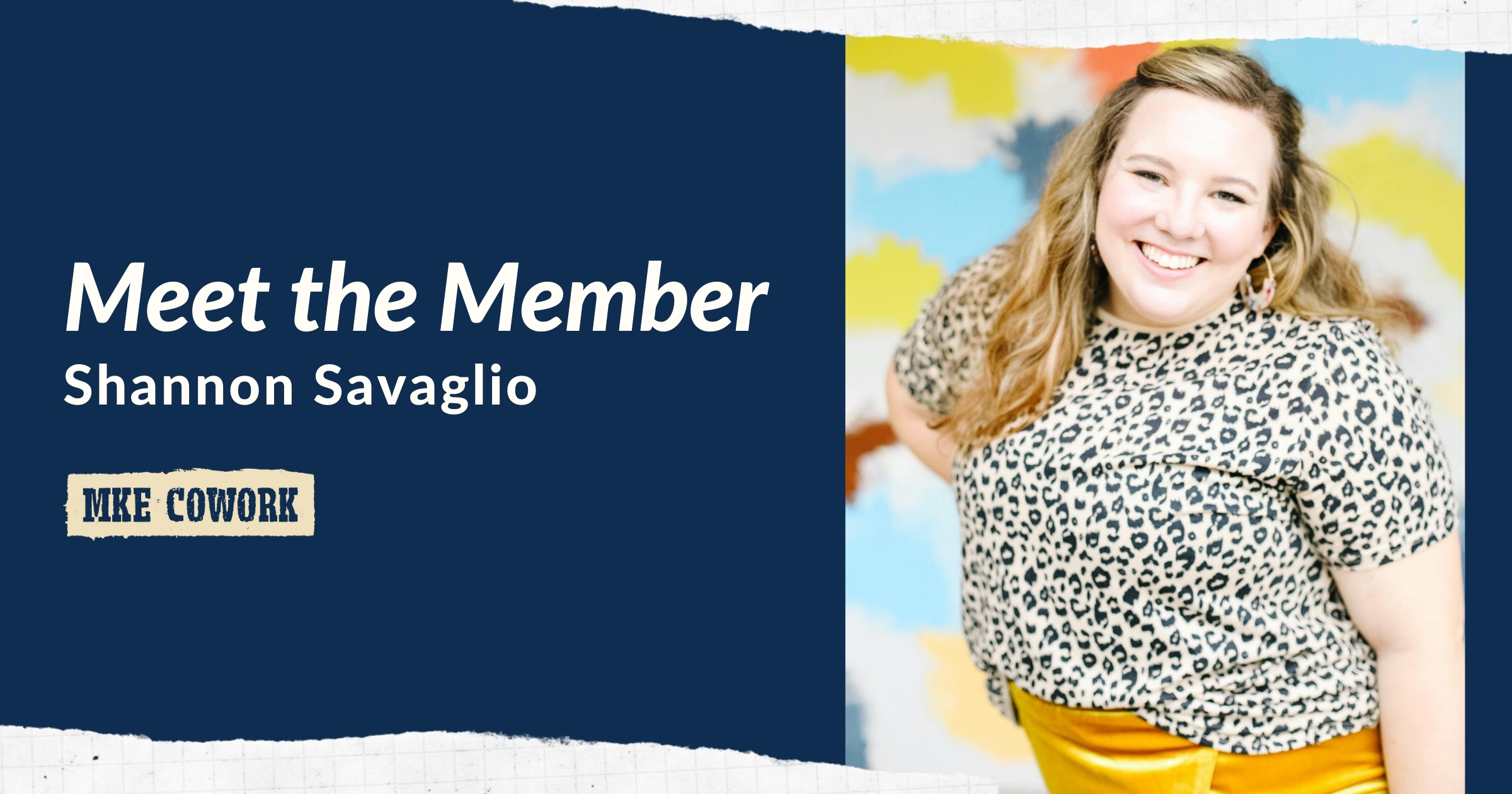 03 Nov

Meet the Member: Shannon Savaglio

Shannon Savaglio is one of our awesome members who has a dedicated desk here at MKE CoWork. She is the Systems + Funnel Strategist at Shannon Savaglio + Co. which does operations and integrations management for small businesses. Learn about Shannon's business journey, why she loves coworking, and her favorite Britney Spears song. And don't miss out on her top productivity tip at the end of this post. 
What did you do before you started your company?
I was an Executive Assistant + serial entrepreneur (since 13!)
What's one fun fact that most people do not know about you?
I'm a history and psychology nerd; it fascinates me.
What inspired you to create your company and tell us a little bit about your journey getting started?
 As an EA for a little over 5 years, I worked primarily for men with big egos who chose to look down on me and what I did. I was great at my job, and I mostly enjoyed the work – but then I found out I could do it for myself for small business owners and it just made sense. I started in January of 2018 and by March I had my first client. It's been a journey to figure out what I truly love, but that's part of the fun! 
Why did you choose that industry?
Mostly because I was comfortable in it, and because I saw a need and knew that with my skill set, I could help.
What's one of the biggest challenges you have been able to overcome on your journey to where you are?
Oh man, there are so many! A lot of the struggles and challenges have to do with imposter syndrome. Not thinking I'm good enough or up to the task. Thinking someone else is better than me, assuming that no one wants to work with me because I'm a college drop-out. . . . etc. Learning that I have something to offer small businesses has been a feat, but I'm slowly learning that I am valuable and have wisdom and knowledge and I deserve a seat at the table, too.
What are your plans for the future of your company?
Welllllll – one of my clients is buying me out of the retainer side of my company. And in return, I'm becoming her Chief Operating Officer, which is pretty crazy! Due to that change, I'm agreeing to not take on retainer clients and am pivoting to more of a strategy/consulting lens. That means that I'll do all the brain work and anyone who hires me will have to do the follow through.
What made you choose MKE CoWork over the competitors?
Honestly it was by total accident! My best friend was in town for the day, and we were meeting for dinner at Kopps on Layton Ave, so I was trying to find the closest place to there so I could drop everything and run to meet her. I walked in the door and James was super inviting and I decided to stick around!
What about coworking in general do you like the most?
The camaraderie. We're all here trying to bootstrap something. It's so cool to see all of the ideas in one place!
Do you see a value in working with people from other industries in the same space?
Yes! I think we all bring incredible things to the table, and I love to learn.
Now on to the fun questions! What is your favorite business book or podcast?
If you could choose one song to play every time you walked into a room for the rest of your life, what song would you pick?
Work Bitch – Britney Spears
If you were a professional athlete, what sport would you play and why?
I'd be an equestrian professional. I used to work on a horse farm in middle and high school, and I helped the owners train green (young/untrained) horses. When I was 15, I was riding and teaching a horse to canter, and the horse bucked me off into the side of the barn and I haven't gotten on a horse since.
What was your biggest splurge?
If you were independently wealthy and did not have to work, what would you do with your time?
I think it would be cool to start some sort of foundation that helps kids/young adults start a start-up, and know that they don't need to go to college to do that.
What's your top productivity tip?